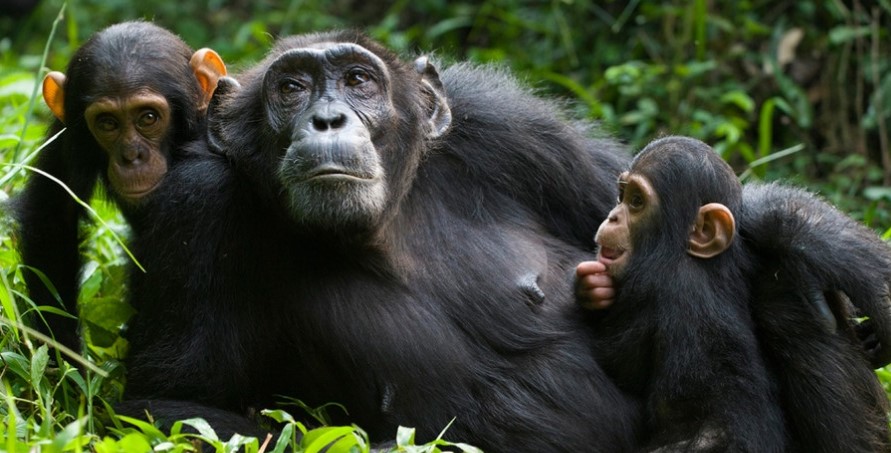 7 Days Gorillas, Chimps & Wildlife
Are you interested in visiting Uganda's mighty primates of ; the gorillas, chimpanzees and game animals from Kigali? This 7 days chimpanzees, gorilla trekking, and wildlife safari leads you to Bwindi Impenetrable National Park, Kibale Forest National Park and Queen Elizabeth National Park  for an amazing  primate and game experience. Below is an elaborated itinerary for this  safaris:
7 Days Uganda Gorilla Safari Overview
With this 7 day trip, you are required to  be found in Kigali city in Rwanda. Our  company guide will get you  very early in the morning and transfer you to Queen Elizabeth National Park via the Ntungamo – Mirama Hills border. This journey takes between 6 – 7 hrs with a single break for  a nuritious lunch. The package has options for luxury, budget, and mid-range  arrangements  that you can opt for at the booking time.
Day 1: Transfer To Queen Elizabeth National Park
From any part of  Kigali city – Rwanda, our tour guide from Python Safari will get you  and transfer you to Queen Elizabeth N.P in Uganda. Boasting with a great diversity, Queen Elizabeth National Park is Uganda's a famous national park. It is a shelter for  buffaloes, elephants, lions, leopards, hyenas and a lot more mammals. As you drive to this park, you will have your delish lunch on the way, experience and feel  the cool breezes of Uganda's countryside and after an apex of a memorable adventure of the park. An overnight at Pumba Safari Cottages, Park View Safari Lodge, Mweya Safari Lodge, Kingfisher Lodge, Elephant HAB Lodge, Wildtracks Overland Camp, etc depending on your financial muscle/ preference.
Day 2: Game Viewing & Boat Cruise
The  day starts with an aromatic cup of coffee as you prepare for your morning game viewing drive. You will get to a number of trails while on your game drive including the Kasenyi  trail, the most convenient and admirous venue for wildlife viewing in this park. You will view animals such as lions, elephants, water bucks, kobs, leopards, buffaloes, warthogs along with other numerous mammal species and birds; notable ones include: Black and Black Shouldered Kite, Black-Chested Snake-Eagle, Blue-naped and Specled Mousebird, etc. After completion of the game drive, you will get back to your lodge for a splendid breakfast meal, chill. And after, prepare for a serene afternoon boat cruise on the Kazinga Channel. On this spectacular   boat cruise, you will watch abundant animals quenching their thirsty on the banks of the lake, the crocodiles, hippopotamuses, and  a lot  more aquatic animals. After this boat ride, you will be driven back to your accommodation for  a nutritious dinner and a cool relaxation.
Day 3: Transfer To Kibale Forest National Park
Rise up with an early morning nutritious breakfast and experience another game drive to other magnificent areas that you missed  the previous day. After this game viewing drive, you are driven back to your lodge to cool down and relax. After having an African prepared delicious lunch, you will be driven to Kibale Forest National Park in Fort portal. After reaching the park, you will continue to your preferred accommodation to cool down and freshen up as you get prepared for your chimpanzee trekking adventure the next day. An overnight at Chimpanzee Forest Guest House, Kyaninga Lodge, Crater Safari Lodge, Primate Lodge, Kibale Forest Camp, Kabalega Wilderness Lodge, Isunga Lodge, and so many more. All these accommodations cater for your financial suitability and taste of preference.
Day 4: Chimpanzee Trekking & Bigodi Swamp Walk
On this day 4 of your 7 days Uganda primates safari, you trek chimpanzees; another amazing, wonderful, memorable, exciting and an easier adventure. After an early morning nutritious and tasty meal at around 7:00am travel to the park headquarters where  a briefing in regard to the safety precautions and tracking norms will be administered. Thereafter, move to the beginning point, to commence your chimpanzee trek in the forest.  Kibale to date is the most admirable place to view chimpanzees. These Apes are believed to be man's immediate cousin as they share an outstanding portion of the DNA. These apes are more less the same with humans, they are cheeky, calm and always enjoy the company of tourists who visit them. After this memorable and amazing primate adventure, get back to your vehicle, and head to the point of origin, you may opt for a cookout/picnic  or move back to the  hotel for delish lunch.
Enjoy  an afternoon swamp walk in Bigodi Wetland sanctuary for sight of a series of birds and other several primates such as Red Colobus monkey, baboons, Blue monkey-  grey cheeked, Red Tailed monkey, L'Hoest's monkey,etc .Bigodi is a paradise for birders and renown of these birds in this swamp include the Grand Blue Turaco, Black Bishop, Yellow billed Barbet, Brown- backed Scrub-robin, Western Nicator, Black-Crowned Waxbill, etc these can easily be sighted amongst the other 138 species. There is also a wide  range of butterflies, insects and flowers. Additional mammals which can also be viewed include;Sitatunga, Mongoose, bush pigs, Otters, Chimpanzees, etc.  Then later get back for relief and a nutritious dinner with an overnight at your accommodation of preference. An overnight at Chimpanzee Forest Guest House, Kyaninga Lodge, Crater Safari Lodge, Primate Lodge, Kibale Forest Camp, Kabalega Wilderness Lodge, Isunga Lodge, and so many more. All these cater for your financial suitability and taste of preference.
Day 5: Transfer To Bwindi Impenetrable National Park
Begin the day with an early morning aromatic and nutritious breakfast meal and transfer to Bwindi Impenetrable National Park. This Park habituates more than half of the mountain gorilla population of Uganda. The region boasts up to 3 gorilla families that are well habituated and ready for trekking all year through. i.e Nkuringo, Bikingi and Bushaho gorilla families.  Bwindi Impenetrable Forest National Park is seemingly the best area to view gorillas in Uganda, Africa and in the world at large This is a whole day drive with a few  breaks along the way. When you reach Bwindi, you will sign in to your lodge and take a breath as you organize yourself for your mountain gorilla trekking expedition the next day. Get served with a delicious dinner and
Day 6: Uganda Gorilla Trekking Episode
This is a preview of this 7 days safari in the "Pearl of Africa" from Kigali city. With an early morning aromatic and delish breakfast on day 6 of your 7 days Uganda primates safari, vacate the lodge at about 7:30 am and set off for a briefing at the guest information center in Rushaga part of Bwindi Impenetrable National Park. The briefing plenary is mainly meant to notify guests of the important precautions they require to put in mind as they encounter with the huge mountain gorillas during their mountain gorilla expedidition activity.
It will require you to carry packed lunch/ take away and bottled drinking water along with you in the sense that the adventure tends to last for 3-8 hrs basing on where the mobile gorilla family allotted is sighted. But presently the searching methodology has been revised as game rangers trace the apes so as to enable you be guided to the actual trail, this is intended lessen on the duration in the gorilla searching process. Periodic stopovers will be done to enable catch your breath and sip some water and the on carried soft snacks to fine-tune your vigour. With an en encounter with these gentle primates, you are granted an hour's full unrestricted interaction, however, advised to observe a 5-7metre gap. With this amazing hour you are at liberty to take pictures and videos of memorable experiences of these mammals as they enjoy the company of each other and that of their visitors.
 After the tracking, get back to the starting point to collect your trekking gorilla certificates, and meet up with your driver/ guide who will lead you to your desired accommodation for night live and a tasty dinner. An overnight at Buhoma Lodge, Gorilla Safari Lodge- Rushaga, Silveback Lodge, Clouds Mountain Gorilla Lodge, Nkuringo Bwindi Gorilla Lodge, etc, all these fit in every ones' level/ class/affordability.
Day 7: Transfer To Kigali & Departure
Since this is the final day of you tour,  you will enjoy more of your morning releving yourself from the tidous travels of the previous days at your accommodation. After a nutritious lunch, you will take  off  heading to Kigali city where you will get dropped at the lodge of your choice your  preference or  else delivered at the airport for departure. This will signify the end of your amazing and spectacular 7 days Uganda gorilla safari from Kigali city  from Rwanda